Rising Stars in the Global Real Estate Market
Real estate is playing an increasingly important role in global investments, and wealthy people are looking for new alternative areas for investing their capital. Internationally important cities remain the most popular and safest places for purchasing real estate assets. In these markets, investors can expect large and quick profits without much trouble. New hot locations are now appearing on the real estate market, and over the next few years, they have every chance of taking their place alongside London and New York or even overtaking these cities in terms of their ability to attract investments.
The growing interest of investors in acquiring real estate, and the recovery of the real estate market which has been taking place in many regions of the world after the 2008 North Atlantic debt crisis, was first noted in cities of international importance (meaning financial and business centers of international and regional importance). According to a joint Candy GPS study conducted by Candy & Candy, Savills World Research, and Deutsche Asset & Wealth Management, 40% of the core portfolio of real estate assets of the richest people in the world is concentrated in five cities: Hong Kong, London, Moscow, Singapore, and New York. In monetary terms, this is about $2.2 trillion. According to the analysts, the category of the richest people (or, as they are called in the press, UHNWIs  — Ultra High Net Worth Individuals) includes only people with private capital exceeding $30 million, of which there are about 200,000 around the world or 0.003% of the global population. UHNWIs currently possess around 3% of the total value of all world real estate, which is equivalent to a sum of $5.3 trillion. Most real estate assets of the "super-rich" are located in Hong Kong ($798 billion), a market that is still dominated not by foreign, but by Chinese, investors. London ($676 billion) is a market represented by an international group of real estate investors. It stands out from the rest of the five cities by its impressive share of foreign capital. Investors from Eastern Europe, and in particular Russians, are some of the biggest fans of London digs. According to experts at the Savills real estate agency, in the last year, wealthy Russians acquired a total of ₤180 million of real estate assets in the British capital. It is anticipated that this amount may quadruple before the end of the year, due to a wave of capital flight from Russia and fears that new sanctions will be imposed. The top five cities with the largest capital inflows into the premium real estate sector also include Moscow ($263 billion), Singapore ($217 billion), and New York ($164 billion).
Geographically speaking, the richest real estate investors hail from Europe and Asia. If we analyze the value of the entire premium real estate market owned by private investors, then UHNWIs from Europe and Asia account for 80% of the market ($4.2 trillion). Interestingly, real estate assets account for 31% of the investment portfolios of Europeans. For Asians, this share is 27%, whereas the world average is only 20%. In general, we can say that real estate is increasingly becoming established as a basic and principal asset for investors because the percentage of capital invested in this sector is increasing steadily everywhere. The most important real estate investors, according to the Candy GPS report, are residents of Germany, Japan, and the U.S., which account for 39% of the real estate assets owned by UHNWIs. And while Germans prefer to invest in the domestic market, Japanese millionaires invest in real estate around the world. In general, the German practice of investing private capital within a country or region is the most widely observed: 92% of real estate transactions are made within a given region.
However, given the steady and rapid growth in housing prices in cities of international importance, a new trend has been observed in recent years: Interest is growing in the premium real estate sector of developing countries and in the "second-tier" cities of developed countries.
Future Stars
Despite warnings from analysts that real estate is overvalued in many countries and is unlikely to be able to grow at a significant pace in the future, global investors still bet on the current boom in this sector. Thus, according to a survey by the investment company Invesco, more than half of the respondents said that they have increased their real estate portfolios during the last year in hope of long-term growth. Western investors still prefer safe assets, but the desire to receive large and quick windfalls has spurred the growth of investments in riskier assets. Of course, investing in the time-tested premium real estate sectors of Hong Kong or London is safer, but this type of investment does not promise large dividends. Cities where real estate is still undervalued but which have strong prospects for rapid growth in the future look more promising. Indicative in this respect is the phenomenal growth in property values in Dubai, UAE, where housing prices during the first three quarters of 2013 soared by 21.37%.
The Candy GPS report, which was prepared on the basis of data from Savills World Research, identified 12 rapidly developing cities around the world, the growth of whose property prices may well exceed the figures of giants such as Hong Kong, London, or Moscow. Judging by the increasing volume of investments, these new stars of the global real estate market are showing steady growth in housing prices, which, however, are still much lower than in cities of global importance. Rents and the capital values of real estate will grow with the development of these cities and the general strengthening of the economy. This promises substantial capital gains for far-sighted investors.
Yolande Barnes, Director of World Research at Savills, noted:
"The list contains a large variety of cities, from quite traditional centers such as Melbourne (Australia) to cities in developing countries, such as Chennai in India, where quite a few individuals with very large assets live."
Besides Melbourne and Chennai, the category of potential stars also includes Tel Aviv (Israel), Miami (USA), Chicago (USA), Dublin (Ireland), Panama City (Panama), Beirut (Lebanon), Istanbul (Turkey) Cape Town (South Africa), Jakarta (Indonesia), and Lagos (Nigeria).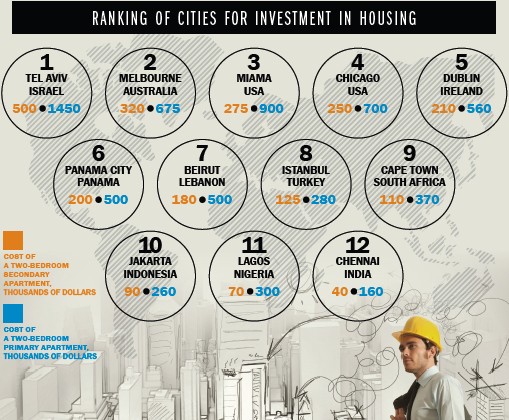 All of these cities are characterized by their rapid economic growth. Factors such as the widespread use of the English language (which is important for Melbourne, Miami, Chicago, Dublin, and Cape Town), the availability of innovative production facilities (Dublin and Tel Aviv), the proximity of green space or water (Tel Aviv, Miami, Beirut), favorable conditions for international companies, as well as a high percentage of young and educated people further increase the investment attractiveness of these places.
Text: Olga Irisova