Women join a community effort to rehabilitate earthquake-damaged roads in the south-west of Haiti.

On 14 August 2021, the south-west region of Haiti was hit by a 7.2 magnitude earthquake which led to widespread death and destruction. Some 2,200 people died, over 12,500 were injured and up to 800,000 people directly impacted. Six months on, the Haitian government has organized an international pledging conference, in the hope of raising the $2 billion needed for reconstruction.
1140: A huge UN and government relief effort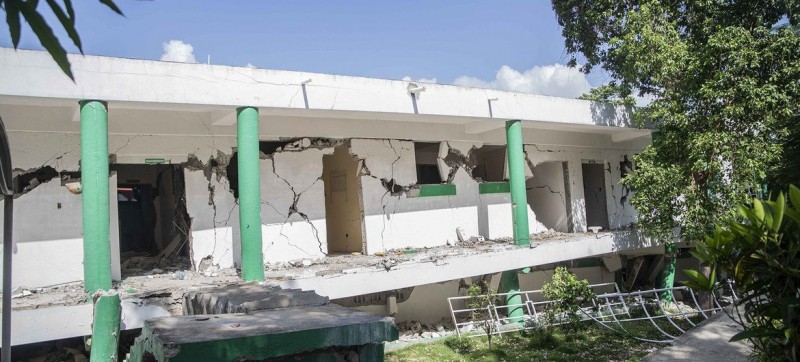 The Hôpital de Référence Communautaire de l'Asile in the south-west of Haiti was severely damaged in the 14 August 2021 earthquake.

A huge humanitarian relief effort led by the Haitian government was mounted in the immediate aftermath of the August disaster and UN agencies were heavily involved.

Both UNICEF and the UN Population Fund (UNFPA ) supported mothers after the maternity wing in a local hospital was razed to the ground.

And the World Food Programme provided meals to school children, many of whom came from farming families who had lost their land or food and seed stories.
 
 1120: widespread destruction and death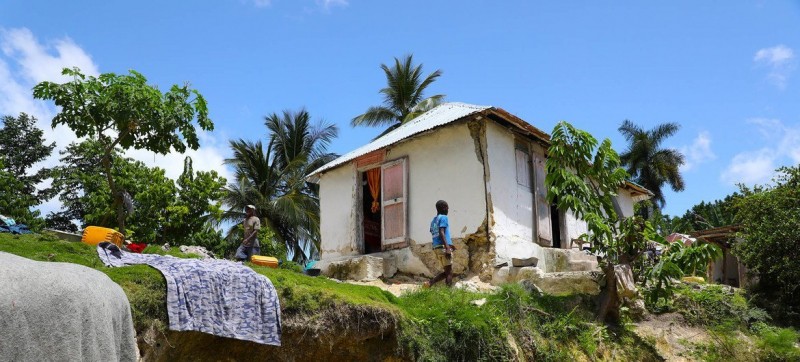 Thousands of people have been displaced after tens of thousands of homes collapsed or were damaged.

The August earthquake struck in a mainly rural region. It left 2,300 people dead and almost 13,000 were injured.

A huge amount of damage was also done to infrastructure, including homes, hospitals, schools and roads. You can read more about what happened here.

It's not the first time Haiti has suffered from a catastrophic earthquake. In 2010 some 220,000 people reportedly died in a quake whose epicentre was close to Port-au-Prince.
The loss of crops, livestock, and fishing gear, as well as transportation difficulties, have resulted in an increase in food prices in the Great South. 754,000 people are food insecure after earthquake. Recovery needs are estimated at US$ 54 million to address food insecurity pic.twitter.com/ZDpnOWpQPB

— Nations Unies Haïti (@UNHaiti) February 13, 2022
The earthquake in the Nippes, Grand'Anse, and South affected 115,000 homes, almost 40,000 of which were destroyed or very seriously damaged. To ensure the rehabilitation of housing for the population of the southern peninsula, the recovery needs are estimated at US$ 1 billion. pic.twitter.com/7MjTxmUF5b

— Nations Unies Haïti (@UNHaiti) February 13, 2022
1100
It's been a very tough 12 months for Haiti; an economic crisis, the assassination of the head of state, rising insecurity and the increased threat of kidnapping by gangs, and not to forget the ongoing threat of COVID-19, complicated an already challenging humanitarian situation in what is the poorest and least developed nation in the western hemisphere.
And then on 21 August last year, a deadly 7.2-magnitude earthquake struck the south-west of the country causing may deaths and widespread destruction. More of that later.
Today in the capital of Haiti, Port-au-Prince, the Haitian government is bringing together international donors to support the reconstruction and recovery across the affected region and to ensure that the country is better prepared for any future natural disasters.
The meeting has just got under way, and we'll be live blogging the event…you can follow it live here on UN Web TV.