©UNHCR/Modesta Ndubi Violence between communities in West Darfur has forced many people to flee their homes around El Geneina town.
The explosion of ethnic violence in Darfur largely by nomadic "Arab" groups in alliance with the RSF who have been battling national army forces for control of the country since mid-April, has led tens of thousands to flee into neighbouring Chad.
'Horrifying accounts'
In a statement, OHCHR Spokesperson Ravina Shamdasani said interviews with people fleeing the decimated city of El Geneina have revealed "horrifying accounts" of people being killed on foot by the RSF-supported militia.
"All those interviewed also spoke of seeing dead bodies scattered along the road – and the stench of decomposition", she said. "Several people spoke off seeing dozens of bodies in an area referred to as Shukri, around 10km from the border, where one or more of the Arab militias reportedly has a base."
She said immediate action to halt the killings was essential.
"The High Commissioner for Human Rights calls on the RSF leadership to immediately, unequivocally condemn and stop the killing of people fleeing El-Geneina, and other violence and hate speech against them on the basis of their ethnicity. Those responsible for the killings and other violence must be held accountable."
Safe passage
She added that people fleeing El Geneina must be guaranteed safe passage and humanitarian agencies allowed access to the area so they can collect the bodies of the dead.
"Out of 16 people we have so far been able to interview, 14 testified that they witnessed summary executions and the targeting of groups of civilians on the road between El-Geneina and the border – either the shooting at close range of people ordered to lie on the ground or the opening of fire into crowds."
The civilian exodus from the city intensified following the killing of the state governor on 14 June just hours after he accused the RSF and militias of "genocide" – raising the spectre of the hundreds of thousands killed between 2003-2005 during a Government-orchestrated campaign of violence.
Tweet URL
Ms. Shamdasani said the testimonies recounted killings that took place on 15 and 16 June, but also during the past week.
Deadly hate speech
"We understand the killings and other violence are continuing and being accompanied by persistent hate speech against the Masalit community, including calls to kill and expel them from Sudan."
One 37-year-old told the UN that from his group of 30 people fleeing to the Chad border, only 17 made it across, the Spokesperson recounted.
"Some were killed after coming under fire from vehicles belonging to the RSF and 'Arab' militia near the Chad border, while others were summarily executed, he said. Those who survived had their phones and money looted from them by armed men shouting: 'You are slaves, you are Nuba'".
A 22-year-old woman gave similar accounts of killings. She told how one badly wounded young man had to be left on the ground: "We had to leave him because we had only one donkey with us".
"El Geneina has become uninhabitable", said Ms. Shamdasani with essential infrastructure destroyed and movement of humanitarian aid to the city, blocked.
"We urge the immediate establishment of a humanitarian corridor between Chad and El-Geneina, and safe passage for civilians out of areas affected by the hostilities."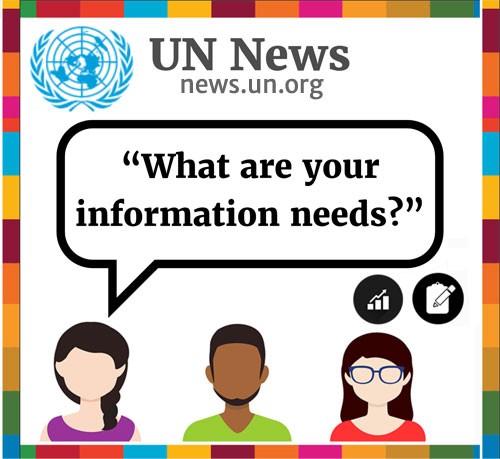 2023 UN News User Survey
Thank you in advance for agreeing to participate in our survey so we can improve and tailor our products to your needs. The survey will take no more than 4 minutes to complete.
We want to hear from you. Click here to take our survey!