UNIC Jakarta A UN-supported programme at the Tangerang Class IIA Correctional Facility in Indonesia is helping inmates learn job skills.
"I want to make the most of my time, even in prison, and this training should help me find a job later," said Denny, 31, who has just over two years left of a five-year prison sentence. "Of course, I knew how to make a coffee before, but here I am learning about different flavours, smells and aromas, and about the artistic side of coffee making."
Denny is one of 200 inmates in the Tangerang Class IIA Correctional Facility and among more than 35,000 inmates across Indonesia who are involved in vocational training, from eco-printing on textiles to farming. While learning how to be a barista behind bars, he said he hopes to get a job in a café following his release.
Salis Farida Fitriani, who heads the correctional facility, said the programme aims at building a better future, but skills training alone is not enough for inmates to succeed in the outside world.
To deal with a society that often stigmatizes them for life, she said, the prison offers training in personality development, counselling, and religious teaching.
"Our goal is to provide positive activities and training for the inmates," she said. "The programme includes personality development as well as vocational training to help with their future livelihoods."
UNIC Jakarta Starting a business is hard after serving time in prison, said Haswin, a 32-year-old former drug offender who opened a coffee shop after leaving Tangerang Class IIA Correctional Facility in Indonesia in January 2022.
Breaking the 'ex-con' stigma
Starting a business is hard after serving time in prison, said Haswin, a 32-year-old former drug offender. Leaving Tangerang correctional facility in January 2022, he now operates his own coffee shop, mixing modern and traditional coffee styles alongside mocktails and snacks.
"Life is so much better now," said Haswin, adding that his former bartending job was a prime factor in his involvement with drug-related offences that led to his arrest in 2018.
"I am more content with life and proud of my creativity," he explained. "I had never thought I could find a career outside nightlife."
Now, his work is not just a "means to make ends meet", but a new opportunity.
"I want to break the stigma around 'ex-cons' by showing that former offenders can also be independent and creative," he said.

UNIC Jakarta Studying for a university degree is part of a UN-supported pilot programme at the Tangerang Class IIA Correctional Facility in Indonesia.
From sports to university programmes
Tangerang Class IIA gives prisoners a chance to do that. They can also compete in professional sports at Tangerang, a prison unique in Indonesia for offering a full university education programme. Open to prisoners across Indonesia, a pilot programme currently serving 200 inmates is poised to roll out countrywide, subject to funding, Ms. Fitriani said.
Asep, a third-year Islamic studies student with Syekh Yusuf Islamic University, said he, like many in the programme, could not afford to go to university in his life before prison.
"I was always keen to learn, but my economic situation did not make it possible for me to study," he said.
Following the same curriculum the university offers to its regular students, Asep and his schoolmates attend classes thrice weekly for six hours each day. After graduation and before the end of his prison sentence, Asep said he hopes to help his fellow prisoners by offering religious counselling.
"I get to learn a lot about the world and about life outside," he said. "It helps me cope better with my long sentence. It will help the others, too."

UNIC Jakarta Inmates at the Tangerang Class IIA Correctional Facility in Indonesia can compete in professional sports through a pilot programme.
Tailored to inmates' needs
Supported by the UN Office on Drugs and Crimes (UNODC), the training programmes are designed with help from a set of assessment tools that provide evidence-based approaches tailored to inmates' individual needs.
Corrections officers use these tools to evaluate and better understand inmates, including the level of security risk they may pose, their compatibility with the programme, and their likely response to education.
Within UNODC's prisoner rehabilitation initiative, which focuses on education, vocational training, and employment during incarceration, the goal is to contribute to the prisoners' employability after release, thus reducing chances of recidivism.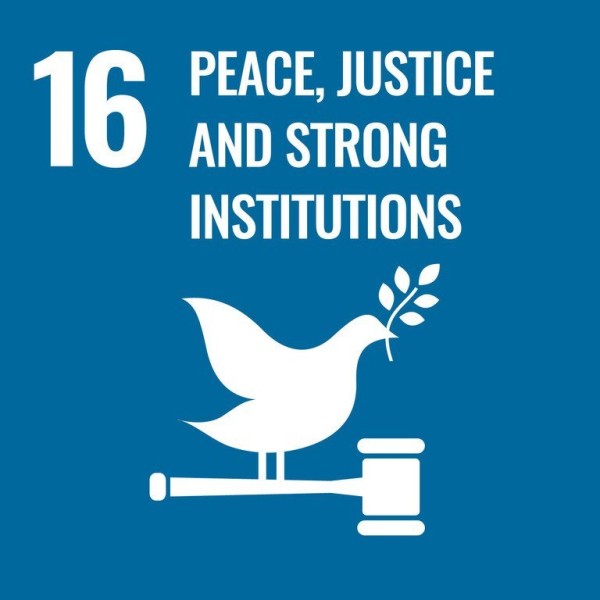 United Nations SDG 16: Peace, Justice and Strong Institutions.
With this in mind, the agency partnered with Indonesia's Directorate-General of Corrections to create an assessment matrix that helps corrections officers to build psychological and security profiles of prisoners and enables staff to keep track of their progress, said Rabby Pramudatama, a programme manager at UNODC's Jakarta office.
"We need to make sure, for instance, that we get inmates who are unlikely to disturb the classes and will cooperate with teachers and their fellow students," he said.
Second chances
UNODC also collaborates and supports such non-governmental organizations as Second Chance, which help inmates to reintegrate into society once they are out of the facility.
On a quiet morning, some inmates were reviewing verses from the Quran, while others gathered around to watch a pair of sparring kickboxers. As rain set in, they spoke of the sunshine that was bound to break through, sooner or later.
For Denny, he said the sunshine will come on the day when he, too, can get out and find a job.
"My main drive right now is to be a better person than I was before," he said, adding that until that day, he will focus on religious activities and brewing perfect cappuccinos in barista classes.
Learn more about how UNODC is helping to reform prisons across the world here.